Chicago
Metropolis in Illinois
Chicago
state
Illinois
resident
height

205 m, 176 m

no tourist information on Wikidata:
Chicago is a city in Illinois.
district
The main districts include:
The Loop the city's geographical center and the financial and economic center - almost extinct at the weekend, high-quality high-rise buildings, shopping along State Street
South Loop and Chinatown south of Grant Park and I-55, visit the Campus Museum, Soldier Field and Cellular Field and Chinese restaurants and shops
Near North Side Home of the central shopping street Michigan Avenue, west of Michigan Avenue numerous restaurants and (blues) bars, east of which the rising neighborhood of River North
Old Town and Lincoln Park mainly residential area with imposing city villas and the large Lincoln Park. Restaurants and bars, especially on Wells Street, the famous Comedy Club Second City
Lakeview offers the gay-lesbian nightlife district of Boystown (on Halstead and Broadway), Wrigleyville with the Wrigleyfield baseball stadium and numerous bars and clubs (slightly less upmarket than on Rush Street and Old Town)
North Shore Evanston is a suburb in the north of Chicago, home to Northwestern University
Near West Side is home to Greek Town, Little Italy, Pilsen and Ukrainian Village restaurants.
Wicker Park and Bucktown emerging neighborhoods with interesting shops and more alternative/to the coined bars and clubs
Oak Park suburb in the west of Chicago, famous for Frank Lloyd Wright's architecture
South Side's main center is the University of Chicago (including Frank Lloyd Wright's Robie House and several museums), Hyde Park and, above all, the African-American bronze.
background
The origin of the name of the city is disputed. The most plausible explanation is the Indian origin. The area of today's Chicago has been called Checagou or shikaakwa, which probably means 'wild onion'. A plant that was particularly common here. Chicago is located in a swamp area first inhabited by Haitian travelers in the 1770s. Under the pioneer Jean-Baptiste Point du Sable (a colored settler from Haiti), the first trade post for fur was established here in 1772, and today many consider him the founding father of Chicago. After the War of Independence, Fort Dearborn was built in 1803 (the outlines can be seen in the sidewalk at the intersection of Wabash and Michigan Avenue in the north-east of the Loop). North of the Fort, a settlement emerged that quickly became an important trading point between rappers and settlers. With Illinois joining the United States in 1818, the city became an important location for fur trade. In 1837, the city was officially founded.
The 1848 Illinois-Michigan Canal was completed and the recovery of Chicago began. The favorable traffic situation made Chicago the USA's slaughterhouse for cattle farmers from all over the Middle West. At the same time, the steel industry became a major economic factor, attracting a large number of immigrants. By 1870, about 50% of the inhabitants of Chicago were immigrants, the largest groups were Germany, Ireland, Bohemia and Scandinavia.
Other Chronicle of the City
1848 - Finalization of the Illinois-Michigan Canal, beginning of the recovery of Chicago
1850 - Northwestern University opens
1871 - The Great Fire destroys buildings worth $200 million and costs 300 lives
1879 - The Chicago Academy of Fine Arts is founded (now Art Institute of Chicago)
1886 - Labor riots in Haymarket Square cause 11 deaths
1889 - The social reformer Jane Addams opens Hull-House, Frank Lloyd Wright builds his home in Oak Park
1891 - The Chicago Orchestra (now the Chicago Symphony Orchestra) is founded
1892 - First Elevated Train (EL)
1893 - The 'World's Columbian Exposition' opens
1900 - The Chicago River flows in reverse. The water quality of Lake Michigan is to be improved by the river discharging the waste water into the Mississippi River.
1921 - The Field Museum
1924 - The gangsters Leopold and Loeb are sentenced to death for murder
1929 - The Valentine's Day massacre kills 7 alcohol smugglers
1933 - The exhibition 'Century of Progress World's Fair' opens, as does the Museum of Science and Technology
1934 - Gangster John Dillinger shot in a cinema in Lincoln Park
1942 - Enrico Fermi produces the first nuclear chain reaction in the laboratories of the University of Chicago
1953 - Hugh Hefner publishes first Playboy issue
1955 - Opening of O'Hare Airport
1959 - The first cabaret show of 'Second City' will be performed. At the same time, the completion of the St. Lawrence Canal will help Chicago overseas port
1968 - After the murder of Martin Luther King Jr. accompany uprisings in Congress of the Democratic Party
1969 - The "Chicago Seven" trial begins, two radicals die in raids of the "Black Panther"
1971 - After 105 years the Union Stockyards auction closes
1973 - Sears Towers opens
1979 - The film 'Blues Brothers' perpetuates the music scene of the city
1986 - The Chicago Bears win the Super Bowl for the first time
1988 - Floodlights will be installed in Wrigleyfield, Chicago Cubs home stadium
1996 - The Chicago Bulls (with Michael Jordan) win the NBA for the sixth time
2004 - Millenium Park opens
After the last census in 2006, Chicago is the third largest city in the United States of America. There are approximately 2.8 million inhabitants living in the entire metropolitan area.
arrival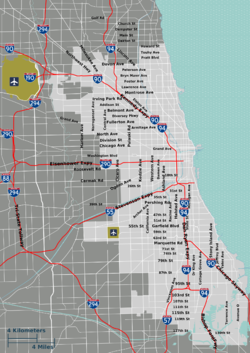 By plane
Chicago has two major commercial airports, Chicago O'Hare and Midway. Coming from Europe, you generally arrive at Chicago O'Hare Airport, while Midway is mainly used for domestic connections.
41,978611111111-87,904722222222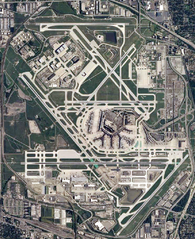 3 Chicago O'Hare         (IATA: ORD) is about 25 kilometers north-west of the city center. The airport is the sixth largest airport in the world, with about 80 million passengers a year, and the third largest airport in the US, after Atlanta and Los Angeles. Chicago O'Hare is the main hub of the two major airlines United Airlines and American Airlines as well as their regional subsidiaries United Express and American Eagle. Spirit Airlines is also a low-cost airline with some connections.
The most popular direct connections from Central Europe are Frankfurt (Lufthansa, United), Munich (Lufthansa, United) and Amsterdam (KLM, United), but you can also fly Austrian Airlines from/to Vienna or Swiss from/to Zurich.
Within the US, O'Hare is connected to almost every other airport in the country by United Airlines/Express and American Airlines/Eagle. The most frequent flights are New York-LaGuardia (American, Delta, Spirit, United), Los Angeles (Alaska, American, Spirit, United), San Francisco (Alaska, American, United), Dallas/Fort Worth (American, Spirit, United) and Denver (American, Frontier, Spirit, United).
Citizens of most EU countries can generally enter as Visa Waiver. For useful tips, see United States of America #Entry
From the airport you can take the subway (CTA Blue Line - timetable information) to get to the city, which takes about 1-1½ hours. Or you can take a taxi. They leave in front of each terminal at special waiting rooms that are occupied day and night. Chicagoer cab also offers so-called shared rides that bring several waiting passengers to the city center at a fixed per capita price, but all passengers have to travel to almost the same destination.
It takes about 30 minutes to get there, but the traffic around O'Hare is difficult to estimate, so the journey time can be much higher. Alternatively, all major car rental companies are represented at the airport, some hotels also offer transfers. The motorways around O'Hare are subject to a toll, but you have to keep a few quarters for that. There is no way to change money if you drive directly from the airport onto the motorway.
41,786111111111-87,7525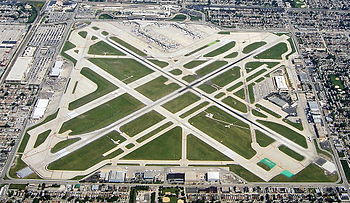 2 Chicago Midway       (IATA: MDW) (IATA Code: MDW) is only 16 km from the city center. In the 1960s, he was the main airport in Chicago until he was replaced by O'Hare in second place by O'Hare. With 22 million passengers per year (more than Berlin or Hamburg), it is not exactly small either. Most of the flights here are operated by the Southwest Airlines low-cost airline, which operates e.g. B. strong demand connections with Atlanta, Denver, Las Vegas and Minneapolis/St. Paul. There are few international connections within North America and the Caribbean, such as Cancún or Toronto.
The Orange Line of the Highway connects Midway Airport to downtown and Downtown is around 25 minutes away.
by train
3

Union Station,

225 South Canal Street

.

Tickets are available at the ticket office, at the machine or by calling Amtrak (telephone:

1-800-872-7245).

The ticket office is open Monday to Sunday from 06:30 to 20:30.

At Amtrak you should always buy tickets at least 30 minutes before departure.

(Because of the new security measures, you are responsible for having your tickets signed and your ID.)

Opened:

Mon-So 05:30-22:30.
By bus
megabus.com is a very convenient way to travel to the Midwest of America. Greyhound buses also allow you to travel around the USA (as well as Canada and Mexico). Greyhound is one of the most authentic experiences you can have in America.
On the street
Chicago is surrounded by a dense network of partially toll motorways.
East Highways 80/90 (from Cleveland, OH) and 94 (from Detroit, MI)
From the south Highways 65 (from the state), 57 (from Memphis, TN) and 55 (from Springfield, IL and St. Louis, IL)
From West Highways 80 and 88 (from Iowa)
From North Highways 90/ 94 (from Minneapolis, MN), 39 (from Wisconsin) and 43 (from Green Bay, WI)
By ship
Chicago has many harbors that can be reached by sailing and motor boat visitors, while the harbor masters provide information on available berths. The main ports are from north to south: Montrose, Belmont, Diversey (motorboats only), Outer and Inner Jackson, DuSable, Burnham Park/Northerly Island. The operator Westrec Marinas accepts reservations for visitor locations.
mobility
public transport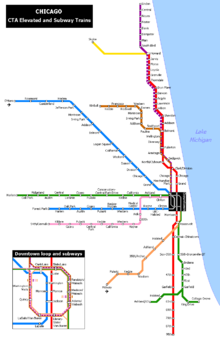 Chicago has a good and dense public transport network, which also operates at night and is operated by the Chicago Transit Authority [1]. If you don't have a car, EL or L (for Elevated Train - High and Underground), the numerous buses and express buses as well as the taxi are the means of transport of your choice.
If you stay in the center of Chicago, and you're mainly interested in the sights, you don't need a car. Parking in the center of Chicago costs up to $40 (= USD = USD = USD) per day, depending on the need for parking spaces. These private parking spaces are well signposted. If you want to explore the surrounding area, it is advisable to rent a car. Metra trains connect the major suburbs with the city and the central Union station.
The route planner and the timetable information of the CTA. The CTA offers daily passes to visitors of the city for 1 ($10), 3 ($20) or 7 ($28) days. These allow unlimited use of the buses (also in the suburbs) and the EL (not included in the price are the Amtrak/Metra trains). The daily passes are not available at all stations! However, most L-stations have an extra machine for these passports. They are also sold at Walgreens markets (an overview of the sales outlets is available here). With luggage it is often difficult to get by the locks at the stations. You have to take time or choose a different means of transport. However, there is often a wheelchair door.
In the inner city area (Magnificent Mile (northern Michigan Avenue) and in the lounge, Trolleys is open in the season. On the one hand, there are sightseeing trips for a fee (with the possibility of getting off and off at any time) and on the other hand, the Navy Pier Trolley, which transports tourists free of charge between Michigan Avenue and Navy Pier. For a fee, tour operators are:
Chicago Trolley
Chicago Tours
Outside the center there is also public transport. The suburbs are used at least for the Rush Hour of diesel and electric trains of the Metra, which mostly use old freight trains (see Metrarail). A separate tariff system applies to the metra and it is advisable to know the timetable especially at the weekend, as the trains will then run no more than once an hour. PACE buses operate from most of the suburban stations.
The South Shore Line [2] operates to Indiana mainly during the commuter hours. Note that the easternmost station is in the next time zone Eastern Time.
taxis
Taxis are a popular and cheap alternative to the bus. Taxis can be used all the time in the city center.
However, there are numerous complaints about the taxi in Chicago and the political battle between city and taxi drivers has a long tradition. You should not expect excessively friendly drivers or particularly new and clean taxis as a tourist; the long-calling driver is also typical of Chicago. It is recommended that you wear a seat belt.
Typically, between 15-20% of the fare is intended for taxi rides. The procedure is to get the change completely and then return the tip to the driver.
By bicycle
In addition to the usual bicycle lending possibilities, Chicago has a fixed-site lending system for everyone (similar to the German Call-a-Bike system) with Divvy. Here you need a credit card to make your booking at the machines, you pay USD 7 for 24 hours or USD 75 for one year and can use a bike for a maximum of 30 minutes anywhere within this time and return to each station. For longer usage at the piece, additional charges are added. This makes renting several hours (i.e. for bicycle tours outside the station area) unattractive. From 2 minutes after a successful return the next bike can be rented. Note: With use, a guarantee of € ? blocked on the credit card! The station density is medium and the area supplied is mainly located in the lakeside areas. At each station there is a road map with bike paths and all the stops so that you can plan longer tours of the city, including bike changes.
A credit card allows you to rent a maximum of two bicycles. So groups should have multiple credit cards.
Note: when returning at the station, make sure that the bike clicks correctly (first yellow, then green light and confirmatory tone), otherwise the bike is considered not to have been returned and it can be quite expensive. Sometimes it helps to lift the bicycle at the back.
sights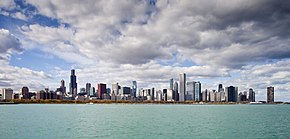 The stars of Chicago are the towers, the museums, the parks and the lake, the blues and the mafia. If you don't have much time, you should definitely take a sightseeing tour (best on the Chicago River) to discover the loops' architectural highlights. For lunch, you have to try the Chicago-Style Hot Dog (Ketchup on it is a mortal sin). In the afternoon, you can take a walk through the Millennium Park, followed by a visit to the Magnificent Mile (Michigan Avenue north of the Chicago River). The sunset and the breathtaking skyline can be admired with a cocktail in the Signature Lounge on the 96th floor of the Hancocks Center. Then you should try one of the typical Chicago specialties (Deep Dish Pizza, Stuffed Pizza or a good steak) in the Near North Side. If you feel like it, visit the bars and clubs on Rush Street.
architecture
After a major fire in 1871, a large part of the city was built in the 1930s. The following list contains suggestions, all of which are within walking distance (in the Loop and the Near North Side):
The world fame of the Chicago Architects began with the Chicago School. One of the first buildings of the Chicago School is the Auditorium Building (50 E Congress Parkway) built in 1889 by Adler and Sullivan. The first official skyscraper with a steel skeleton was built by Jenny in 1885 (demolished in 1931). Other high-rise Chicago School buildings are
Marquette Building,

140 S Dearborn Street

.
Fisher Building,

343 S Dearborn Street

.
Old Colony Building,

407 S Dearborn Street

.
Manhattan Building,

431 S Dearborn Street

.
The Columbian exposition later resulted in numerous sandstone buildings worth seeing
Art Institute of Chicago,

111 S Michigan Avenue

.
Chicago Cultural Center,

78 E Washington Avenue

.
Washington Theater,

175 N State Street

.
Dearborn Station,

47 W Polk Street

.
In the further development of the modern era, there were other high-rise buildings that are worth seeing, which do not correspond to any clear style, especially here
Tribune Tower,

435 N Michigan Avenue

.
Wrigley Building,

400 N Michigan Avenue

.
Chicago Board of Trade,

141 W Jackson Boulevard

.
Merchandise Mart,

N Wells Street

.

When completed in 1930, the largest building in the world.
The founders of modernity are, of course, the Mies van der Rohe Classics
Lake Shore Drive Apartments,

860-880 N Lake Shore Drive

.
Federal Center.

Several buildings between 200 S Dearborn Street and W Adams Street.
330 N Wabash (formerly IBM Plaza),

330 N Wabash Avenue

.
Farnsworth House,

14520 River Road, in Plano Illinois outside Chicago

.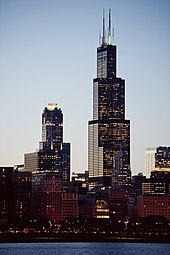 The construction boom of the 1960s and 1970s led to the well-known glass and steel giants, which must be visited:
John Hancocks Center,

875 N Michigan Avenue

.

Built in 1969, 130 feet high.

The viewing platform offers a good view over the buildings of Michigan Avenue and the northern loops.

We recommend a free visit to the Signature Lounge - the cocktail bar with the best views over Chicago.
Aon Center,

200 E Randolph Street

.

Built in 1973, 120 feet high.
Sears Tower (officially Willis Tower since 2009),

233 S Wacker Drive

.

Built in 1973, 442 meters high - panoramic days with good views over the Loop and the Millenium Park.
Other architectural attractions include the organic structures of the Marina City of Bertrand Goldberg (on the north bank of the Chicago River between Dearborn and State), the fully privately funded Millennium Park (north of Grant Park), and the Jay Pritzker Pavilion designed by Frank Gehry (also in Grant Park).
The Chicago Architecture Association offers very good guided tours on foot, with the EL and on the water. Tours of the Chicago Architecture Foundation
There are numerous examples of Frank Lloyd Wright's style in the vicinity of Chicago. For example, the Robie House on the campus of the University of Chicago and the former home of the architect in Oak Park.
Art and museums
Next to architecture, Chicago is famous for its museums. The Art Institute is located on Michigan Avenue (south of the Millennium Park) and displays famous works of art from the last century. The Field Museum is a natural history museum, famous for its collection of America and dinosaurs with the almost complete skeleton of a T-rex. The Field Museum forms the Museum Campus with the Shedd Aquarium and the Adler Planetarium. The Museum of Science and Industry, the Museum of Contemporary Art and the Chicago History Museum are also worth a visit. Chicago has an excellent symphony orchestra. In summer, concerts are held in the Ravinia Park in the north of Chicago, the Millennium Park and Grantpark, and Michigan Avenue. Chicago also offers a wide range of entertainment with the Civic Opera and numerous musical productions. Chicago also offers a vibrant blues scene that is home to many small clubs and the House of Blues.
Neighborhoods worth seeing
Like all major American cities, Chicago is a melting pot, and many ethnic minorities have shaped their neighborhoods. One of the best places to visit is Chinatown (Red Line Stop Cermak), located south of the city center. Most of the other immigrant districts are famous for their restaurants and offer little to see. German and Scandinavian immigrants coined Lincoln Square (Brown Line Stop Damien), and the curious Chicago brewery is still here today. You can also find local colored cuisine in Little Italy, Greektown and Pilsen.
park
North of the loop stretches along the Lake Michigan of Lincoln Park. We recommend a bicycle tour on the Lakefront Trail to the north. Also in Lincoln Park is the free Chicago Zoo (2200 N Cannon Drive). To the east of the Loop lies the Grant Park (with Millenium Park) and Buckingham Fountain, which are also worth seeing.
Other attractions
Other attractions include the Navy Pier, a tourist destination with numerous boat trips to the lake, and the numerous sports stadiums: Wrigleyfield (Red Line Stop Addison), Cellular Field (Red Line Stop Sox) and Soldier Field (south of the Museum Campus).
activities
sporting events
American football: Chicago Bears, spend their season in summer and autumn. Cards are very hard to get. The games are played at Soldier Field in downtown vis-a-vis Lake Michigan.
Soccer: Chicago Fire has played a good role in the Major League Soccer (MLS) for several years. The matches are mainly attended by immigrants from football-enthusiastic nations of Latin America or from Poland. Cards are easy to get.
baseball: Spring sports in the United States. Chicago has two teams, the White Sox and the Cubs. Although the Sox are more successful, there are many more chicagoers with the clubs rooted in the left-liberal, coveted student district of Wrigleyville. Tickets for a game in Wrigley Field can be purchased for normal league matches on match days directly at the official card counter at the stadium or at dealers around the stadium (approximately $50 up).
basketball: The great times of the Chicago Bulls around Michael Jordan are over, so the Chicago Bulls' interest in their basketball club has declined sharply.
tours
At Cruise Chicago, you can book 90-minute boat trips, during which a tourist guide will explain the high-rise houses the boat passes. Depending on the day and time, about $50. Advance booking is advisable.
purchase
There are many shops on Michigan Avenue. Some are specialized in tourists, others - especially near the Art Institute - offer artistic products. The large shopping centers are used by tourists and locals alike. On Michigan Avenue you will find malls in the North Stream, Saks Fifth Avenue, Water Tower Place and Shops at 900 North. Outside the city center there are many large shopping centers, including one of the largest malls in the USA - Woodfield in the district of Schauburg near O´Hare airport, or designer outlets in Gurnee Mills. Electronic products and leisure clothing are generally cheaper than in Germany.
As is the case everywhere in the United States, the reported prices are net of tax and in Chicago, between 6.25% and 10.25% sales tax is levied depending on the type of product.
kitchen
In general, the Midwest metropolis of Chicago is more culinary than, for example, California or the health-wave areas of the east coast. Large portions of meat and beer are not dressed and large portions are common. If you don't have a specific destination, you can explore the dense restaurant area (between Michigan Avenue to the east, LaSalle Street to the west, Division Street to the north and the Chicago River to the south) on foot.
Yet Chicago has a long list of world-famous top kitchens. Some of the best restaurants are the Alinea, Charlie Trotter's (both of the top 50 restaurants in the world). In addition, the Frontera Grill (Gourmet Mexican) and Everest (New French cuisine) are located on the top floor of the Chicago Stock Exchange. Chicago is of course also a melting pot of various immigrant kitchens, such as Greektown in the South Halsted area, Little Italy on Taylor Street, Chinatown on the Near North Side and Indo-Pak on Devon Avenue. On the border, for example, offers South American dishes. In Lincolntown there is an excellent Spanish tapas restaurant "Cafe Baba Reba". Coffee houses have a long European tradition in Chicago and played an important role in the cultural life of immigrants. Today, the local coffee houses of Metropolis Coffee, Kopi Cafe and Intelligentsia are known in the city.
If you are interested in typical Chicago dishes, you won't find the Chicago-style Hot Dogs on display everywhere, as well as the typical Deep Dish or Stuffed Pizza and a good steak - there's no place in the United States with better steaks (at least say the Chicago). You will find real Chicago dishes here:
Pizza Uno,

29 E Ohio Street

.

The inventors of the Deep Dish Pizza.
Giordano's,

730 N Rush Street

.

The inventors of the Stuffed Pizza.
Lou Malnatis.

In various places (see website) - inventor of the Lou Malnatis Salat Dressing, which has probably been beating waves since the 1960s.

The company's name was in front of its own pizza chain manager at Pizza Uno.
Portillo's,

100 W Ontario Street

.

Hot Dogs and Ribs in the Near North Side.
Chicago Chop House,

60 W Ontario Street

.

The home of the 64 oz (1.8 kg) steak with the 32 oz (0.9 kg) lobster tail.
And a real curiosity with a lot of history.
Billy Goat's Tavern,

430 N.

Michigan Ave at Lower Level (Near Tribune Towers and Wrigley Building on the lower level of Michigan Avenue)

.

One of the most unusual places to eat a cheeseburger.
The Metromix Chicago search engine provides a good overview of the city's many restaurants. And the restaurant guide Zagat.
In contrast to German restaurants, you should ask for a place to serve, you can discuss where you want to sit. In many restaurants, waiting times of 30-45 minutes are common during the main hours. You get the bill at the end of your meal without asking for it, but that doesn't mean you have to leave immediately. The money can be left on the table. All restaurants accept credit cards.
15-20% tip is a must (the rule is: 15% poor service, 18% okay - rule of thumb: double the tax, 20% good service). In bars it is usually $1 per drink to tip.
nightlife
Chicago has a very vibrant music scene. There are a lot of blues bars in the center of the town with live music, and there is also the House of Blues. And at least an excellent jazz bar, "The Green Mill," north of the city center. Al Capone has heard jazz there. Alternative/Indie Clubs can be found mainly in Bucktown and in the metro in Lincoln Park and in the Vic in Lakeview. The technoscene is found in many clubs on Chestnut and Rush Street.
There are also many bars, including the Matchbox, which is very narrow and cozy and is also crowded in the evening. You can meet interesting people there. Rush Street, Bucktown, Oldtown, Wrigleyville and Wicker Park are typical destinations for Chicago barhopping. There are also many good pubs around the university, especially around Northwestern University.
Chicago has many theaters an opera and mostly several musical productions. In Chicago, a local issue of Time Out Magazine is published, which provides a good overview of all events taking place.
accommodation
This guide uses the following price ranges for a typical room.
favorable
$80 and less
means
$81-140
walking
$141 and above
favorable
youth hostel
1

Hostelling International Chicago,

(HI-Chicago) Downtown, 24 East Congress Parkway

. Tel:

+1 (312) 360-0300

.

Best location in downtown Chicago.

Easy to reach from the airport, bus terminal and train station, 24 hours, 365 days a year.

No closing time.

No age restrictions, people under 18 only accompanied by an adult.

Price:

Prices start from $27.
Chicago International Hostel,

Edgewater Neighborhood (at the edge of Rogers Park), 6318 N.

Winthrop Avenue.

One block from Loyola University Chicago

.

No lock hour, 24 hours check-in, minimum age:

16, dorms, groups are welcome and require a reservation, long-term guests welcome, complete kitchen equipment, bed linen included, safe rental, lockers, common room with TV/ Internet access, Visa/ MasterCard and Travelers checks.
Chicago Getaway Hostel,

616 West Arlington Place.

:

Fullerton

.

kitchen, laundry service.

fully modernized in 2010;

but quite large (8 beds) bedrooms with a built-in shower.

Price:

$29 per night.
hotels
2

Days Inn,

644 West Diversey Parkway

.

Used by touring bands in town to play at one of the many big clubs on the north side.

Price:

$98-$130 per night.
Clarion Barcelo Chicago Hotel,

5615 N.

Cumberland Ave

. Tel:

+1 773 693 5800

.

Near Chicago O'Hare Airport (ORD).
Comfort Inn & Suites Downtown Chicago Hotel,

15 E.

Ohio St

. Tel.:

+1 312 894 09 00

.
Econo Lodge North Chicago Hotel,

2315 N Greenbay Rd

. Tel:

+1 847 689 4500

.
Rodeway Inn Mid-City Plaza Chicago Hotel,

1 Midcity Plaza, (Madison at Halsted)

. Tel:

+1 312 829 5000

.
3

Chinatown hotel,

214 West 22nd Place

. Tel:

+1 312 225-8888

.

Free wired internet and computers.

Located at Cermak/Chinatown on the red line.

Price:

Rooms from $67.
Chicago Lodge,

920 W.

Foster Av

. Tel.:

+1 773 334 5600

.
means
Renaissance Blackstone Chicago Hotel,

636 South Michigan Ave, Chicago, IL 60605

. Tel:

+1 312 447 0955

.

Luxury downtown Chicago hotel located on Michigan Avenue, across from Grant Park and a short walk to Millennium Park, Buckingham Fountain, and the Art Institute of Chicago.

Offering luxurious rooms & suites as well as meeting & event facilities.

Home to Mercat a la Plaxa, a Jose Garces restaurant.
Holiday Inn Hotel and Suites Downtown Chicago,

506 West Harrison Street, Chicago, IL 60607

. Tel:

+1 312 957 9100

, Fax:

+1 312 957 0474

.

Steps away from the Sears Tower, Greek Town, the Financial District, and Amtrak's Union Station.

Easy access to the United Center, Grant Park, Navy Pier, the Museum Campus, McCormick Place, and the University of Illinois, Chicago.

Located on the Blue Line of Chicago's famous "EL" trains, you can reach any of Chicago's famous attractions in minutes.
Hawthorn Chicago / Sparburg Hotel,

1251 E.

American Lane Sparburg, IL 60173

. Tel:

+1 847 706-9007

.

Renovated lobby.
Hawthorn Chicago / Vernon Hills Hotel,

975 North Lakeview Parkway Vernon Hills, IL 60061

. Tel:

+1 847 367 8031

.

Enjoy all the amenities of home and experience consistency, quality and comfort when you stay with Hawthorn Suites.

Hotel features suites, full or efficiency kitchens, exercise facilities, video players and on-site guest laundry and valet service.
Hawthorn Chicago / Wadsworth Hotel,

4555 W.

Yorkhouse Rd.

Wadsworth, IL 60083

. Tel:

+1 847 360-0550

,

+1 847 360-1199

(old).

Complimentary hot breakfast buffet.

For business travelers:

sized work area, dual phone lines and data port, voice mail and daily complimentary newspaper.
Hotel Allegro,

171 West Randolph Street at Wells (just across from the Clark and Lake stop on the Blue line)

. Tel:

+1 866 672 6143

.

Open 365 days/year.

This lovely hotel calls itself a boutique hotel, hospitable in reference to its friendly, full four-star service, designer rooms and prices that are the same, or just a little bit more than you would pay for a blank three-star place just north of the river.

Price:

$119-$229 per night (the $229 room has a double jacuzzi, as do the suites).
Hotel Burnham,

1 West Washington Street

. Tel:

+1 312 782 111

.

Another Kimpton Boutique hotel, like its sister hotel the Allegro.
Hotel Monaco,

225 North Wabash

. Tel:

+1 312 950-8500

. Like Monaco Hotels across the U.S. the Monaco Chicago provides a bit better than four star comfort at a bit less than four star prices, though they are a little higher than at Kimpton sister hotels like the Allegro or the Burnham.

What you get for the extra money is a number of specialty services geared for business travelers, so if you are traveling for pleasure for the Allegro.
Crowne Plaza Allerton Chicago Hotel,

701 North Michigan Ave

. Tel:

+1 312 440-1500

.
Wyndham Chicago Hotel,

633 North St. Clair St

. Tel.:

+1 312 573-0300

.

Friendly staff, decent rooms.

Tip:

register for the Wyndham ByRequest 'frequency traveler' program:

When you arrive, your favorite music will be playing in your room and a plate of fruit and iced tea (or whatever you choose) will be waiting for you.
Fairfield Inn & Suites Chicago Downtown,

216 East Ontario Street

. Tel:

+1 312 787-3777

, Fax:

+1 312 787 8714

.
Holiday Inn,

350 North Orleans

. Tel:

+1 312 836 5000

.
Holiday Inn,

300 East Ohio St

. Tel.:

+1 312 787 6100

.
Holiday Inn,

8201 West Higgins Rd

. Tel:

+1 773 693 2323

.
Holiday Inn Express Hotel & Suites,

6500 South Cicero Ave

. Tel:

+1 708 458-0202

.
Holiday Inn Hotel & Suites,

506 West Harrison

. Tel:

+1 312 957 9100

.
Hotel Indigo,

1244 North Dearborn Parkway

. Tel:

+1 312 787 4980

.
Residence Inn Chicago Downtown,

201 East Walton Place

. Tel:

+1 312 943 9800

, Fax:

+1 312 943 8579

.
SpringHill Suites Chicago O'Hare,

8101 West Higgins Road

. Tel:

+1 773 867-0000

, Fax:

+1 773 867 0001

.
Courtyard Chicago Downtown,

30 East Hubbard

. Tel:

+1 312 329 2500

, Fax:

+1 312 329 0293

.
Courtyard Chicago Downtown/Magnificent Mile,

165 East Ontario Street

. Tel:

+1 312 573-0800

, Fax:

+1 312 573 0573

.
Courtyard Chicago Midway Airport,

6610 South Cicero Avenue

. Tel:

+1 708 563-0200

, Fax:

+1 708 728 2841

.
Best Western Grant Park Hotel,

1100 S Michigan Avenue

. Tel:

+1 312 922 2900

, tel. toll free:

+1 800 472-6875

, Fax:

+1 312 922 8812

.
Best Western Hawthorne Terrace Hotel,

3434 N Broadway Avenue

. Tel:

+1 773 244-3434

, tel. toll free:

+1 888 675-2378

, Fax:

+1 773 244 3435

.
Best Western Inn of Chicago,

162 E Ohio Street

. Tel:

+1 312 787-3100

, Fax:

+1 312 573 3136

.
Best Western River North Hotel,

125 W Ohio Street

. Tel:

+1 312 467-0800

, Fax:

+1 312 467 1665

.
walking
Chicago Marriott Downtown Magnificent Mile,

540 North Michigan Avenue

. Tel:

+1 312 836-0100

, tel. toll free:

+1 800 228 9290

, Fax: +1 312 836 6139.
Chicago Marriott O'Hare,

8535 West Higgins Road

. Tel:

+1 773 693-4444

, tel. toll free:

+1 866 614-8407

, Fax: +1 773 693 3164.
Chicago Marriott at Medical District/UIC,

625 South Ashland Avenue at Harrison Street

. Tel:

+1 312 491-1234

, tel. toll free:

+1 800 356-3641

, Fax: +1 312 529 6095.
The Peninsula,

108 East Superior Street (at North Michigan Avenue)

. Tel:

(866) 288-8889

.

Known as one of the city's most luxurious hotels, The Peninsula has been recognized by AAA with a Five-Diamond award.

Located right off of the Magnificent Mile.
The Drake,

140 East Walton Place (at North Michigan Avenue)

. Tel:

(312) 787-2200

, Fax:

(312) 787-1431

.

It doesn't get any more top-of-the-line than this in Chicago.
InterContinental,

505 North Michigan Ave

. Tel:

+1 312 944 4100

.
Marriott Chicago Midway,

6520 South Cicero Avenue

. Tel:

+1 708 594-5500

, tel. toll free:

+1 800 228 9290

, Fax: +1 708 594-5510.
Renaissance Chicago Hotel,

1 West Wacker Drive

. Tel:

+1 312 372 7200

, Fax: +1 312 372-0093.
Renaissance Chicago O'Hare Hotel,

8500 West Bryn Mawr Avenue

. Tel:

+1 773 380-9600

, Fax: +1 773 380 9601.
Crowne Plaza Hotel,

10 South Wabash Ave

. Tel:

+1 312 372 7696

.
Crowne Plaza Hotel,

701 North Michigan Ave

. Tel:

+1 312 440-1500

.
Crowne Plaza Hotel,

733 West Madison

. Tel:

+1 312 829 5000

.
learning
University of Illinois at Chicago
work
safety
You should avoid the southern suburbs of Chicago, or at least ask about the location before going there. Approximately one or two people are killed in Chicago every day. But these are often residents of the poor neighborhoods in the south.
The rest of Chicago is very safe if you follow the European habits. The greatest risk is road traffic, especially with its numerous taxi drivers. You should therefore only cross roads at intersections.
As a general rule: If a situation or a place doesn't seem safe, it's better to turn around. Although the use of firearms is prohibited in Chicago (a relic of mafia times), you should be careful when fighting against them. As always, women should be a little more careful - but that is no difference from Europe.
The emergency number is the 911 for the police, fire brigade and ambulances. For complaints to the city, e.g. about taxi drivers, the 311 should be chosen.
health
Practical information
Most Chicagoers are open-minded and friendly and will be happy to help you find restaurants and shops. Bus drivers (also provide information on bus connections) and vendors are a popular source for all kinds of questions.
As everywhere in America, one should look at the forms of politeness and talk to "How are you?" or at least with "Fine" in stores. Thanks." answer the same question. Many Americans are open-minded and like to hear from the rest of the world, even though they rarely leave the US. Many Chicagoers have German ancestors and like to try out their German skills as soon as they learn where to come from. It is important to advise you correctly.
But some things are difficult for Germans to understand, such as the great responsibility of individuals and patriotism. As a tourist, you won't notice much of it, but you should keep your ears open.
But one cannot expect a cultural shock. The US is very similar in culture at first sight to Europe. If you stay friendly and determined, you should get along well in Chicago. If you get into an unfamiliar situation, it helps to ask and build on the kindness of the opposite.
Spanish can help communicate. The Chicago accent is not very different from school English.
excursions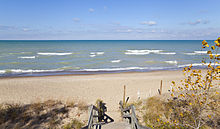 north
The Amtrak Hiawatha leaves Chicago seven times a day via Glenview (Illinois) to Milwaukee.
Fort Sheridan, military base from the late 19th century with a distinctive 52-meter high water tower (45 km north)
Six Flags Great America, amusement park in Gurnee IL (70 km north)
Milwaukee (150 km north; 1½ hours by train)
To the south and east
The South Shore Line, an electrified regional train, runs from Chicago along the southern shore of Lake Michigan to the north of the neighboring state of Indiana, with the cities of Gary, Michigan City and South Bend.
Gary (Indiana), formerly a thriving industrial city, has halved its population since 1970, interesting for lovers of Lost Places and "ghost towns" (50 km southeast; 1 hour by train)
Indiana Dunes National Lakeshore, a protected landscape area with sandy beaches on the southern shore of Lake Michigan (80 km southeast; 1:15 hours by train)
Michigan City and Long Beach (Indiana), seaside resorts on the southern shore of Lake Michigan (100 km east; 1½ hours by train)